A comprehensive solar panel cleaning and maintenance guide by Top Roof Restoration Adelaide
Expert roof restoration services include more than just roof repair Adelaide!
It goes without saying that solar panels are a major investment that comes with numerous long-term benefits.
So if you own a solar panel system in your residential or commercial establishment,then kudos to you for taking up a clean and green source of energy for your electricity needs!
The use of solar energy as a source of power has become a well-established practice in the last decade and this is undoubtedly a welcome trend as our planet battles with several environmental issues.
In Australia, solar panels are a common sight in numerous house roofs and as one of Adelaide's premier roof restoration and repair companies, Top Roof Restoration Adelaide has attended to various solar panel cleaning services over the course of its many years of experience.
At Top Roof Restoration, we come with many years of rich experience in handling some of the best roof restoration projects, and our expertise even includes solar panel cleaning and solar panel guard Adelaide services.
Armed with skilled workmanship and a highly qualified team of roofing restoration
experts, we have carved a niche for ourselves in ensuring that Adelaide's solar panels are always in the best working condition.
Why is solar panel cleaning necessary?
The structure of a solar panel includes a typically rectangular array of photovoltaic cells, all within a high quality glass surface.
These PV cells absorb the sun's rays and the arrangement of solar inverters and solar batteries within the solar system help in getting the job done.
It is easy to see why the glass surface is necessary…
This surface is the reason why your solar panels are able to harness energy from the sun in the first place and perform its basic functionalities.
Any discrepancies on the surface of the solar panel might inhibit its functionality and not give you the performance you expect.
Neglecting the maintenance and cleaning of the panels might lead to bigger problems resulting in solar panel repairs.
Needless to say, these solar panel repairs can be tremendously expensive and can be easily avoided if you take good care of your solar panels and attend to it on a frequent basis.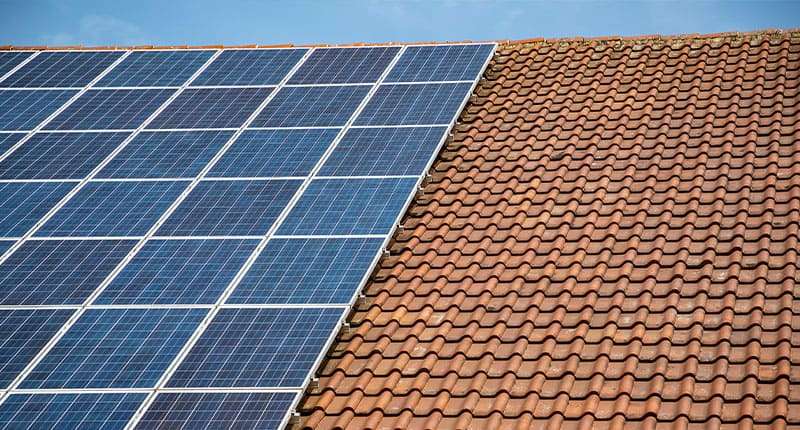 Tips for Maintenance of Your Solar Panels
For many years, Top Roof Restoration Adelaide has been at the forefront of providing expert roof restoration Adelaide services backed with high efficiency, quality and affordability.
Our expertise in solar panel cleaning Adelaide has helped heaps of people enjoy a long run with their panels and enjoy a clean and eco-friendly source of energy.
As such, the following represents some maintenance tips for your solar panels, exclusively crafted by our solar panel cleaning experts at Top Roof Restoration Adelaide:
Your solar panels should be kept away from shade
Keeping your panels in the shade leads to inadequate absorption of the sun's rays which results in inefficient generation of solar energy.
Ensure that the solar inverters are flashing green lights
If your solar panel's inverters are not flashing green lights, it shows that there isn't proper usage of the solar energy and you can end up wasting a lot of money in the process.
Keep a tab on the daily performance of the panels in order to enhance the performance of your solar panels
It is worth noting the amount of energy that is produced on a daily basis and keep a check on the days where the weather was very cloudy. It goes without saying that certain results would not be consistent but you can get a clear picture of how your solar panels are functioning on a daily basis. You can ask your manufacturer for guidance in this regard.
Wall-mounted display
In order to make monitoring of your solar panel system easier, you can employ a wall-mounted display that shows you information regarding the performance of your door panels, right from the comfort of your home
Automated cleaners
More often than not, you do not have enough time to practice the appropriate maintenance of your solar panels. In such cases, you can consider automated cleaners that serve as sprinkler systems
Solar Panel Cleaning is done right with Top Roof Restoration Adelaide
Solar panels are undoubtedly a very effective and eco-friendly means to gain solar energy for your electrical needs.
Not only is this means of harnessing energy undoubtedly environment-friendly in usage, but it also reduces your carbon footprint.
Solar panels are constantly in exposure to nature's elements and as such, it is quite natural for the panels to get dirty. However, prolonged exposure to dust, rain, fallen leaves and tree debris can interfere with the functionality of the solar panel.
That is why you need the assistance of a professional solar panel cleaning Adelaide company that comes with the unmatched combination of experience and expertise in cleaning solar panels.
Top Roof Restoration Adelaide offers outstanding solar panel cleaning Adelaide services backed with immense expertise and many years of rich experience in effectively cleaning solar panels.
We also offer the best solar panel guard Adelaide has to offer, further reinforcing our effectiveness in restoring longevity to solar panel installations in Adelaide.
Note: Solar panel cleaning can be a rather challenging affair as it requires the right cleaning tools and you just cannot clean your panels by using a basic piece of cloth and soap.
As such, it is strongly advised to hire professional solar cleaning service providers who leave no stone unturned in flawlessly cleaning your solar panels and ensure that they function for as long as possible.
As a top-notch roof restoration Adelaide and roof repair Adelaide company that has made a reputation for itself in providing unmatched solar panel cleaning Adelaide services, Top Roof Restoration Adelaide is the way to go!
Adelaide! All your roofing needs under one roof!
Get your FREE quote today!
Contact Top Roof Restoration Adelaide Today!